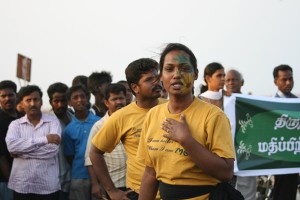 About Sahodari Foundation
Sahodari Foundation is a pioneer organization in India which has been voicing for transgender and gender non binary community of India since 2007.
The organization is a movement, a family, and a team of young transgender people. Sahodari was founded by transgender rights activist, artist and writer Kalki Subramaniam (www.kalkisubramaniam.com).
Registered as an organisation in 2008, Sahodari Foundation does not believe in a regular organization structure, we work with minimum infrastruchture. We have completed 12 years and have been very active in transgender rights advocacy in India. Since 2012, our focus was on legal recognition and we campaigned in many places in India among the Judiciary for legal recognition. From 201 7, our focus is on knowledge and education, arts & literature and enabling tech knowledge to transgender people in the country.
The Foundation's main objectives include the following:
To promote social, political, and economic equity and campaign for civil and legal rights of Transgender and intersex people.
To work for establishing social, economic, and environmental justice for Transgenders, intersex and gender non-confirming people and to eliminate oppression and exclusion based on such factors as race, ethnicity, gender, class, religion, legal status, sexual orientation, age, and disability.
To prohibit discrimination based on "gender identity or expression" and ensure that the entire range of transgender, intersex and gender non-conforming people are protected.
The organisation has received many awards for its contributions. Read more in this page. Sahodari welcomes funders to support our project initiatives. Currently, our work is supported through small donations from friends and well wishers. We have done tremendous work with this available fund resources. We request major support for different projects, so that, we can transform the under privileged trans community for a hopeful future by empowering them.
We believe in bringing a visionary and positive change in the community. Our every step, every project is taken with that mission in mind. Write to us at: reachsahodari@gmail.com.
Would you like to connect with us on Facebook? Click here on the Facebook icon
.