In 2010, Sahodari Foundation and its founder Kalki Subramaniam found the first LGBTQI Pride March in Coimbatore in which only nine transgender women participated. The police personnel who had been deputed to protect us were more in number than the participants. The media was in large numbers too. Though disappointing in numbers, the nine trans women walked the full planned route of the parade walk.
Come 2019! The section 377 which criminalised same sex relationships has been decriminalised by Supreme Court of India in September 2018. LGBTQI persons are now able to out themselves without being penalised. However there is still a long way to go since we still face stigma from our families and discrimination from the public for being LGBTQI.
According to Wikipedia "Pride parades (also known as pride marches, pride events, and pride festivals) are outdoor events celebrating lesbian, gay, bisexual, transgender and queer (LGBTQ) social and self acceptance, achievements, legal rights and pride".
Join us in the biggest gathering of the LGBTQI community, our families, friends and supporters at the Coimbatore Rainbow Pride Parade on October 13th 2019 at 9 a.m in the morning.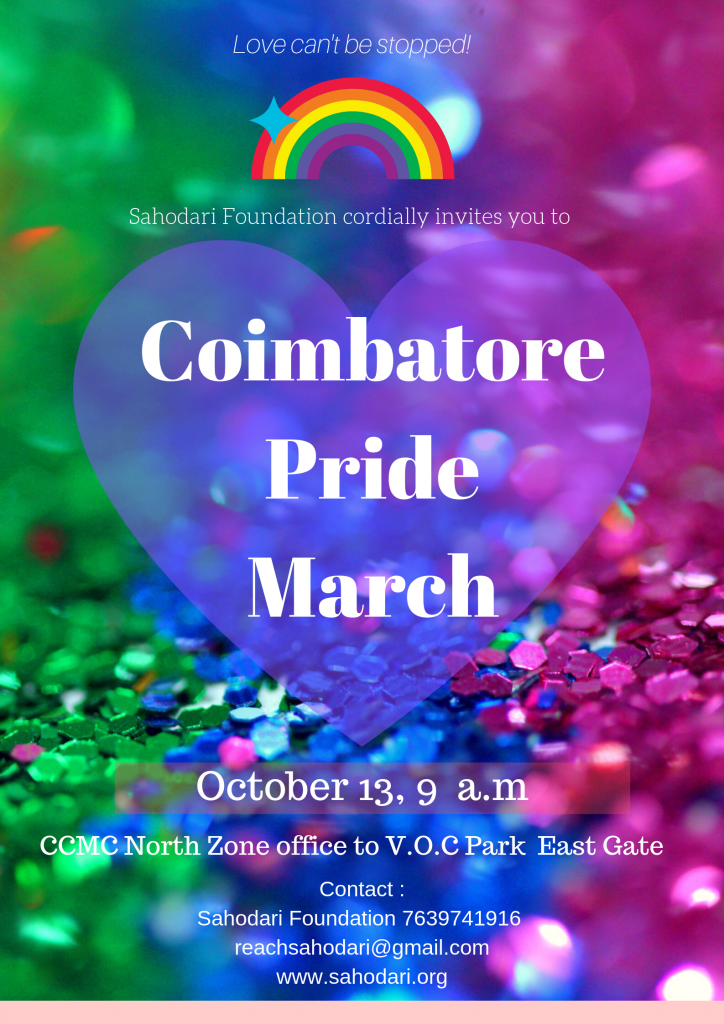 If you would like to support the Pride Parade, you can contribute directly to Sahodari Foundation's account.
Here is the account details: 
Account Name: Sahodari Foundation, Account Number: 1228201002920, Bank: Canara Bank, Branch: Pollachi Main, Tamilnadu state, IFSC Code: CNRB0001228
Come, join us with your friends and family and show us your solidarity and support. For further details contact: +91 7639741916,