Transgender Issues we work on
– Employment-
Trangenders are thrown out from their biological families. Unable to bear the discrimination and violence, many of us also choose to leave our families and start to live with other transgenders creating artificial families. These families are strong and provide safety and security for the abandoned transgender people.
However, due to poverty, discrimination, and lack of skills, many transgenders have no choice of livelihood. They engage in sex work and begging.
At Sahodari, we try to create employment opportunities for poor transgenders. Our first successful entrepreneurship programme is for a group of 8 transgenders. In August 09, through SIFE (Students In Free Enterprise) programme of SSS Shasun Jain College for Women, our girls were trained in making fashion jewellery sets. They completed their training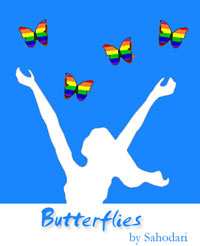 successfully and have started production.
Butterflies will be the name of the brand of this fashion jewellery. Check our Butterflies project now. Click on the image to know more about the project.
At Sahodari, we encourage transgender people, motivate them and train them in entrepreneurship programmes only in which they are interested. This way, their livelihood choice becomes a permanent one and they will not return to the nightmares of sex work and begging.
We are working on other different entrepreneurship programmes for transgenders. Visit this page soon for more news.