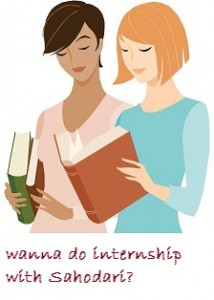 At Sahodari Foundation, we welcome interns from around the globe. Our past interns were from India, United States of America, Sweden and many other countries. As an intern, you get the excellent opportunity to learn issues on gender and human rights in a practical way. It will give you the introduction on our work, our activism, how we use art, media, films and literature to uphold our rights.
You will have the exposure to meet transgender and gender non conforming persons in a very friendly atmosphere and get to know and work with us closely. We are a non profit organization, so we don't pay for interns. Instead, we collect a nominal fee for interns who want to work and learn with us. Interested?
Shoot a mail to reachsahodari@gmail.com with your introduction, no of days/months you require internship and other relevant information.