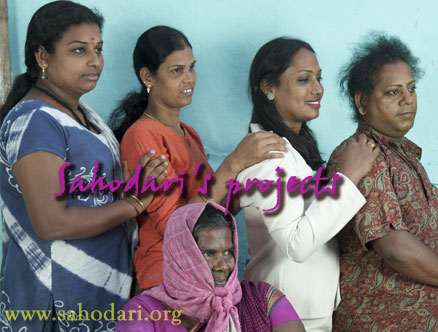 The Projects
The Jobs For Trans Project – A social media platform to connect jobless transgender people to potential employers and offer them job and livelihood opportunities using web digital, internet, social media technologies. Visit the project page here.
Subscribe to our quarterly newsletter. Send an email with the subject line 'Newsletter' and be updated on Sahodari's activities.
Liberation Performing Arts Troupe
A unique Music Troupe of under prileged transgender women. A dream project that is becoming a reality. The project provides them opportinities to learn not only Tamil folk music and dance but also train them to play ancient and aboriginal musical instruments from South America, Europe, Africa and other parts of the world. This will make them world class artists, taking them to places. Go to Liberation Performing Arts Troupe website.
Project Kalki
Project Kalki aims to create and empower under privileged transgender women as video bloggers telling stories of change, stories which inspire and touch their hearts in their communities and in the larger society. Go to Project Kalki Website