Sahodari Foundation has initiatives for the betterment of women, children and transgender people. The organization aims to enrich these lives by helping them address trauma and violence that they have faced using art. One of these Initiatives is called Thoorikai Project.
Thoorikai Project
The Thoorikai Project encourages Trans people to use art to channel their experiences into tangible forms of work. These artworks are then showcased to people from all walks of life. The aim is not only to help the artists but also show the harsh realities of their lives to the general public who might not face the same struggles as the artists. These artists travel to all parts of the country. This enables them to meet many people from different backgrounds, thus enriching their personal experiences and helping them see life outside of their everyday experiences. The funds raised from these travelling exhibitions are used to help the artists support themselves and live a dignified life. 
            Art is a tool, a powerful knife that cuts through any obstacles that are prohibiting people from living their true lives. Using this idea as a guiding force, artist, activist, writer and performer Kalki Subramaniam has brought together artists from all walks of life. This is a memorandum of the same. 
               "It has a piece of my heart and soul, as I am always close to nature and animals" founder of Sahodari Foundation, Kalki Subramaniam told TOI about her painting displayed at the travelling exhibition cum sale. 
Trans artists have felt, seen, appreciated and loved by the means of this project. Some said they cried because of how real the art they created felt, almost like they could see all their deepest feelings and emotions take the form of a heartfelt art piece. The proceeds from the sale was forwarded to the artists who painted them, thus giving them a fair source of income and aiding their quest to live a dignified and respectable life. 
Come Inside! Meet our Artists
Come meet the talented artists behind our exhibitions and galleries! These are the people who created stunning works of art and have helped spread so much beauty despite the discrimination and difficulties they may have faced due to their identities. Each of them is extremely talented and they are all forging their own path to happiness and healing through their art. Click on any of their profiles to discover more about their journeys and their identity as artists!
Santhiya:
Living in Jafferkhanpet in Chennai, Santhiya is an artist who enjoys creating colourful portraits and landscapes. She is also skilled at creating traditional Madhubani paintings. A person of many talents, she has performed her own stand up comedy shows and also happens to be an amazing cook. Though she has faced discrimination and difficulties due to her identity as a trans person, she remains optimistic and believes the situation is getting better.
2. Kanchana:
Kanchana is an extremely talented artist who enjoys painting a wide variety of things, though her favourite medium remains acrylics. She has the ability to use precise brush strokes to create beautiful and intricate designs, and she can also paint on both small canvases as well as create huge murals upto 20 feet tall. She particularly enjoys painting night scenes and also has a talent for abstract art.
3. Vinitha:
Vinitha is another one of our talented artists who learned painting from Sahodari workshops and who has gone on to create many beautiful portraits on canvas. One of her favorite subjects to draw inspiration from for her paintings is Buddha. As a Bengali living in Chennai, she also has an impressive repertoire of languages at her disposal, including Tamil, Hindi, Bengali, and some English.
TRANSHEARTS is about transgender bodies creating images and art works that announce their lives. TRANSHEARTS brings art to the transgender community and encourages them to exercise their creativity in a free and liberal environment. The project offers opportunities to genderless, non-binary, gender queer, gender non-conforming and transgender people to participate in art and creativity workshops. They're invited to explore the beautiful process of creating images and stories in a non-judgmental atmosphere. These workshops are offered to the community completely free of cost.
The art works are collected and displayed in traveling exhibitions and proceeds from sales go to the artists. Identifying the talented artists among the community, encouraging them practice art, investing in their talent, making them as professional artists, supporting their livelihood and changing their lives for better is one of the main objectives of TRANSHEARTS. 
The project is a pioneering effort in India in connecting art with the transgender community. Our TransHearts team travels to various parts of India, mobilise the transgender community and offer these workshops for no cost.
Sahodari Foundation has organised a number of workshops for the transgender community in Chennai, Coimbatore, Kanchipuram, Kothagiri, Puducherry, Malappuram, Trivandum, Kochi and many other places. Hundreds of transgender persons have attended these workshops and have experienced what it is like to make an artwork.
We have done so many exhibitions and shows of the artworks by underprivileged women, non-binary, and trans artists in various venues including galleries, colleges, university premises and conferences.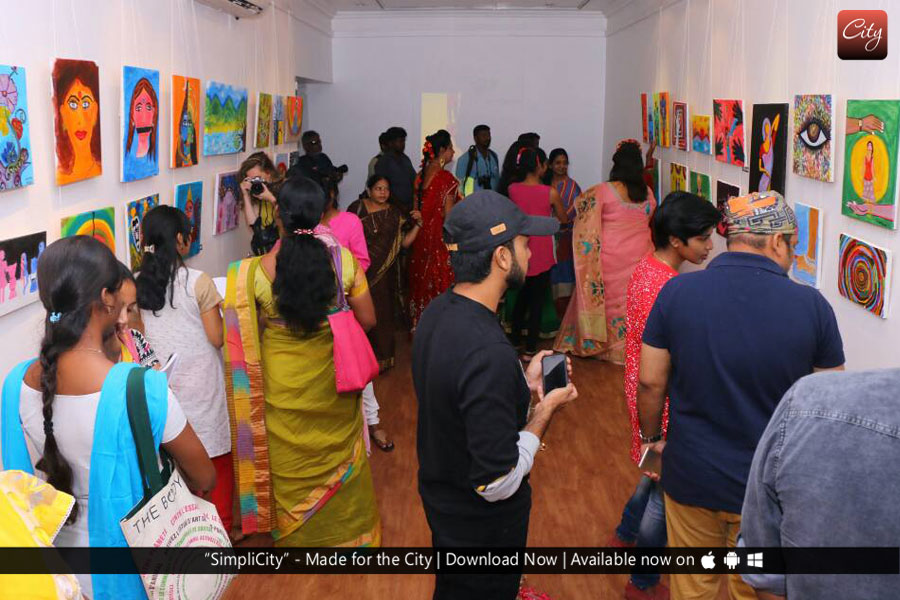 The project is a brainchild of transgender activist, artist and actor Kalki Subramaniam. She aims to reach out to 10,000 unpriviledged talented artists in the next few years and encourage them to practice art. Penmai is a project of Sahodari Foundation. From 2020, we extend and focus on working with women who deserve help and support, who need opportunities to practice art, women who are unrepresented or under represented in the field of art.